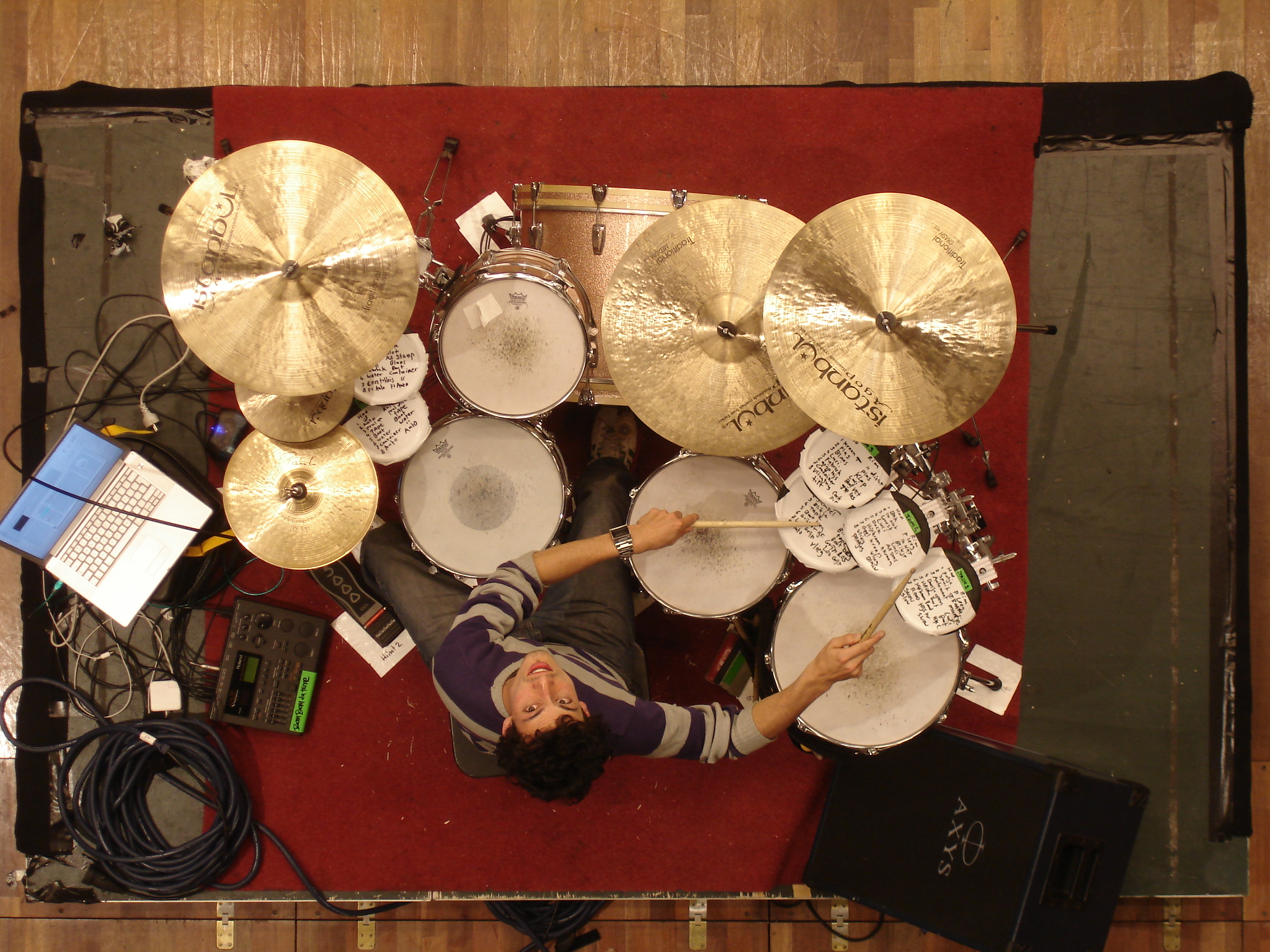 Op deze website vindt je al mijn werk als muzikant.
Mijn werkzaamheden lopen uiteen van het drummen in bands tot het verzorgen van lichtshows.
Mijn hoofd werkzaamheden zijn: drummen en lesgeven, muziek componeren in opdracht en eigen projecten zoals Boom boom du Terre.
Hieronder vindt je links naar de drie hoofd categorieën maar je kan ook op de nieuws knop klikken om alles te zien.
Muziek compositie:
Muziek compositie in opdracht.Mijn bedrijf Lalalalala specialiseert zich in het componeren en produceren van muziek in opdracht. De opdrachten variëren van film en korte animatie tot theater en bedrijfstunes. Bezoek de website voor meer informatie over Lalalalala of beluister muziek fragmenten op deze site.
Ga naar de Lalalalala website.
Drums:
Al mijn werk als drummer kan je hier bekijken Hier Wil je leren drummen of zoek je een workshop docent?
Mijn werk als drum docent en als workshop docent is hier te vinden Hier
Projecten:
Mijn solo project boom boom du terre.
Ga naar de Boom boom du Terre website.
 Hieronder mijn C.V. met links naar de projecten:

Diploma's:
2010 Master of Music diploma, HKU Hilversum.
2007 Bachelor diploma, Rotterdam Conservatorium.
1999 MAVO, Grotius College Delft High school.
Optredens & Opnames:
2014 XOXO Popronde
2014 Mieke van Veen Uitmarkt
2014 Opnames album Annika
2014 Nishe Radio 6
2013 La Boutique Fantastique Sin and Soul tour
2013 Opnames "Between these walls" Mieke van Veen debut.
2013 Oerol Nishe
2011 Lowlands La Boutique Fantastique
2011 Oerol La Boutique Fantastique
2010 Lowlands Boom boom du Terre
Boom boom du Terre shows onderanderen op:
Afsluitende act op Aangeschoten wild 2012,  Buma Rotterdam Beats 2010, Lowlands 2010
2012 – 2010 La Boutique Fantastique shows U.K. Belgium and NL
2009 Prijs Music maker Beste muzikant van Nederland.
2009 Video drummen Rotterdamse museumnacht
2008 Elyas Kahn shows.
2008 GMB Hip Hop band uit Rotterdam
2008 Boom boom du Terre (solo project)
2007 Video drummen Prix du Port finale Nieuwe Luxor Rotterdam.
2007 Video drummen Dutch electronic arts festival Rotterdam.
2007 DJ Remedy Form party Speakers Delft
2006 DJ Remedy Form op IO fetsival Delft
2005 DJ Luna the one man show Gelredome Arnhem.
2004 DJ Joost van Bellen TMF awards after party Ahoy Rotterdam.
2004 Eiland a musical tour.
2002 Inventtech live techno with Thijs Lodewijk.
Muziek productie:
2014 TU Green Village Opening Event muziek voor het evenement.
2014 RSC 100 jaar Lustrum video mapping muziek en geluids effecten.
2014 TU Alumni Event 2014 Tune voor het evenement.
2013 TU Alumni Event 2013 Tune voor het evenement.
2013 YES! Delft TU Netwerk Event muziek voor korte introductie filmpjes.
2013 Move online commercial muziek.
2012 Klasse film muziek voor een Meganimatie klasse film.
2012 TU Alumni Event muziek voor event tune.
2012 Watertanden, music compositie voor reclame.
2012 Lalalalala muziek compositie bedrijf opgezet de bovenstaande opdrachten zijn door Lalalalala uitgevoerd.
2011 Avans Hogeschool commercial muziek voor video van Studio M.
2011 Starters lift commercial muziek voor video van Studio M.
2010 Goed gebekt Groot gevleugeld, muziek voor een mode/art show.
2010 Boom boom du Terre "Your favourite alBoom" debuut album release.
2009 The Healers film muziek voor een film van Tim Leyendekker
2008 Velocity filmmuziek voor een film van Natalia Armata
2008 In Tha Zone muziek voor het theater stuk In Tha Zone.
2008 Sexy Waka composing muziek voor het theater stuk Sexy Waka.
2008 Engel composing muziek voor het theater stuk Engel.
2006 Vodaphone ring tones voor @hand communications.
2006 Film music voor de promo spot "De leeuw is los!" Boekenbal promo. by Jort van der Jacht and Carlijn Volders.
2006 Film music voor korte film "De Kijkdoos" a Ka-chingcartoons animation.
2005 Film music voor korte film "Lang langer GROOTST, van Ronnie Deelen en Jort van der Jacht.
2005 Film music voor MTV bumper by Ronnie Deelen.
2005 Promotion voor Orange by @hand communications.
2002 Music voor een musical "What's going on" by Rotterdamslef.
Workshops en clinics:
2013 Percussie workshops voor Talent proof. drummen op emmers, blik en buizen in het basisonderwijs.
2013 "Imago in beeld" workshop over visualisatie van music producten, Zadkine Rotterdam.
2009 Workshop video drummen pop centrale Dordrecht.
2009 Pop Kids workshops op het basisonderwijs. In opdracht van de Zuid-Hollandse Pop Unie.
2009 "Drumming with visuals" in de Pop centrale in Dordrecht.
2008 Pop Kids workshops op het basisonderwijs. In opdracht van de Zuid-Hollandse Pop Unie.
2007 "Imago in beeld" workshop over visualisatie van music producten, Zadkine Rotterdam.
2007 "Muziek maken met beeld" Art academy Rotterdam and Coservatorium Rotterdam.
2005 "Drumming with electronics" at D.N.V. Tilburg.
Lesgeven:
2013 Drums en Syntheseleer Zadkine pop academie Rotterdam
2012 Hoofdvak drums op ROC midden Nederland
2011-2012 Music production op Zadkine Pop academie Rotterdam
2011-2012 Drummen op Zadkine Pop academie Rotterdam
2009 Drums op Stichting Vonk.
2007 Music production with Reason software at the Zadkine pop academie Rotterdam.
2006 Drums at Muziek centrum opmaat in Schiedam.
2004 Drums op Het Klooster in Rotterdam.
2002 Drums op de HPC Den-haag.
Projecten en installaties:
2009 "Bang on the screen" video drum performance door vier drummers op het Urban explorers festival
2008 "Sound to Light" installatie bestaande uit 60 gloeilampen in opdracht van de Rotterdamse museum nacht.
2006 "Motor snaredrums" 8 gemotoriseerde snaredrums aangestuurd op midi
2005 "Vidodrumming" percussive video installatie/instrument.
2004 "Boom boom du Terre" dance music composities.
Lichtshows en visuals:

2014 Maassilo Rotterdam
2013 Licht show Motel Mozaique
2013 Licht shows Corso Rotterdam
2012 VJ Rotterdamned feest.
2012 Boomdox licht design and operating.
2012 Opbouwen Discovery festival.
2005 tot 2009 Off_corso Rotterdam.
2006 Cruise terminal Rotterdam.
2001 tot 2005 Calypso Rotterdam Awakenings outdoor festival N-joy IDNT.
2002 tot 2003 Club Laspalmas Rotterdam Dancevally UDC Megafestatie Utrecht Impulse outdoor festival IDNT UDC Dancevally.
1999 tot 2002 Nighttown Rotterdam.